Packaging runs smoothly with linked bag
With the production of linked bag, we offer our customers a particularly-economical packaging solution for small and medium-sized series. Thanks to their pre-opening on one side, chain bags can be easily opened and filled manually or by a blast of air while they are still hanging on the roll. The filled chain bag is then separated from the roll along its tear-off perforation and sealed. The use of pre-printed linked bags in food safe polyethylene means that foodstuff, confectionary, pet food, pharmaceutical products, bulk goods and many other products to be ready for sale immediately after the packaging process.
S&Z offers linked bags on the roll in a wide range of dimensions, according to your requirements. In addition to PE, we also offer various recycled variants. Depending on requirements, you can choose between material thicknesses from 35 µ to 120 µ. he equipment variants range from perforations, lateral perforations and tear notches to suspension perforations and many other options. As exPErts, we would be pleased to advise you on the benefits of linked bags for your company.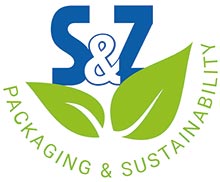 Films and sustainability?
We show you many options allowing you to optimise your packaging to achieve your sustainability targets!
Do you have further questions?
Don't hesitate to contact us.
We would be delighted to advise you.